This memorial website was created in the memory of our son, Patrick Jay Clark who was born with angel wings on January 22, 2007.
We will remember him forever!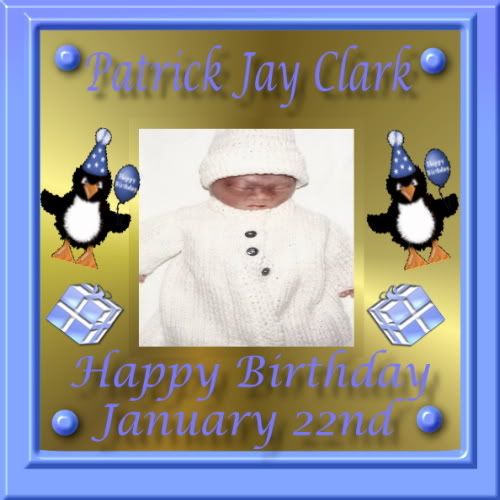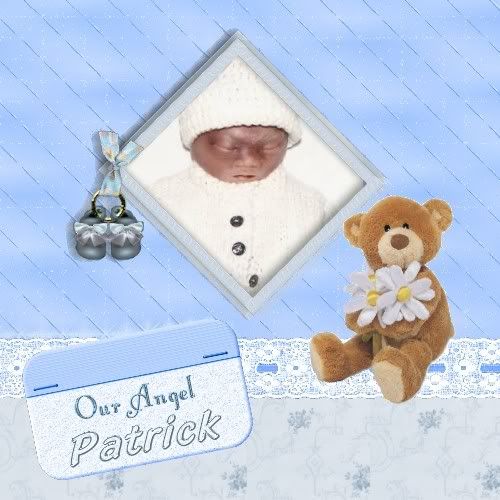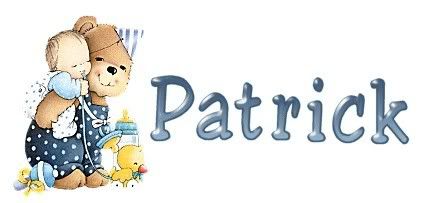 Thank you Sarah ~*~ Joshua's Mommy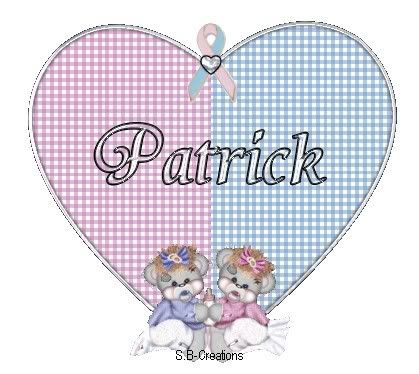 Sent with love from Sharon
, Siobhan's Mommy


~Thank you to all of the wonderful mommies for your warm wishes on the arrival of Patrick's baby brother, Daniel. You are all so thoughtful, and caring and you & your angels are in our thoughts & prayers everyday!~



Thank you Traci! I love it!!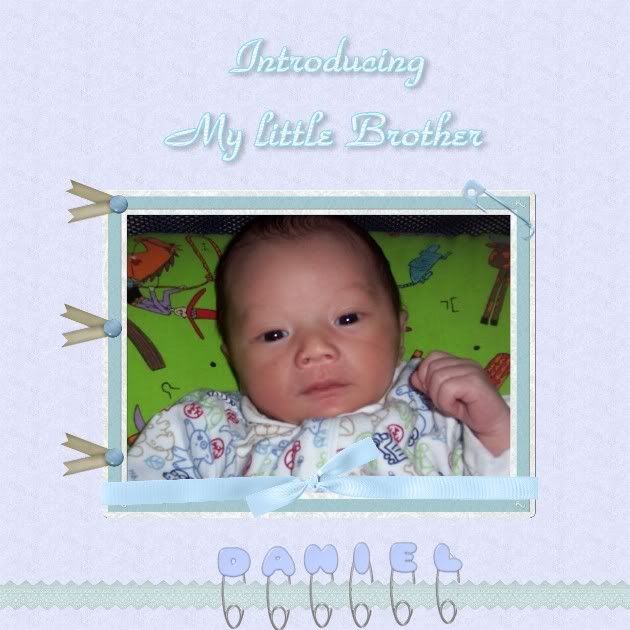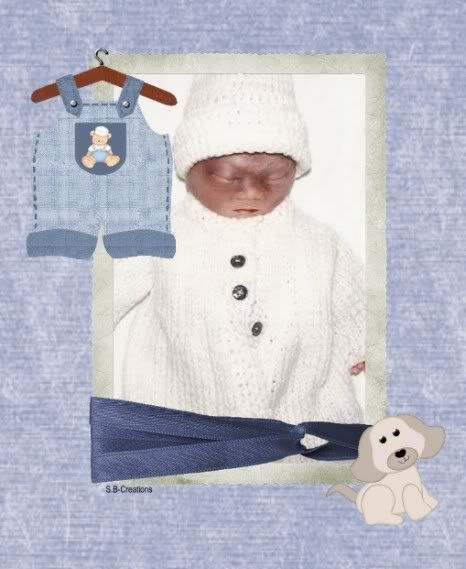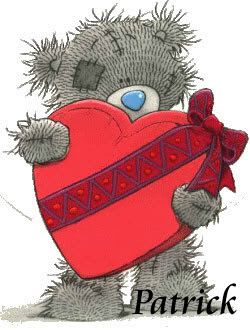 Thanks for all the pictures, Traci!









Thank you for these pictures Sarah, Angel Joshua's Mommy





Hugs From Heaven

When you feel a gentle breeze
Caress you when you sigh
It's a hug from Heaven
From a loved one way up high.



If a soft and tender raindrop
Lands upon your nose
They've added a small kiss
As fragile as a rose.


If a song you hear fills you
With feeling of sweet love
It's a hug from Heaven
From someone up above.


If you awaken in the morning
To a bluebird's chirping song
It's music sent from Heaven
To cheer you all day long.



If little tiny snowflakes
Land upon your face
It's a hug from Heaven
Trimmed with Angel lace.


So keep the joy in your heart
If you're lonely my dear friend
Hugs that are sent from Heaven
A broken heart will mend.


Sent with love from ~*~ Emalee Rain's Mommy.
Thank you for this beautiful poem!






Thank you for this Emma, Neveah Angel Prince-Fraser's Mommy!





Sent with love from Sarah, Angel Joshua's Mommy






~~Sent with love from your Grandmama~~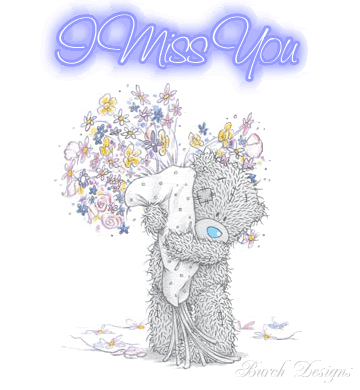 Sent with love from Traci, angel Vanessa's Mommy







Thank you for this picture Sue ~*~ Matthew's Mommy





What Makes A Mother

I thought of you and closed my eyes
And prayed to God today.
I asked what makes a Mother
And I know I heard him say.

A Mother has a baby
This we know is true.
But God, can you be a Mother
When your baby's not with you?

Yes, you can He replied
With confidence in His voice
I give many women babies
When they leave is not their choice.

Some I send for a lifetime
And others for a day.
And some I send to feel your womb
But there's no need to stay.

I just don't understand this, God
I want my baby here
He took a breath and cleared His throat
And then I saw a tear.

I wish I could show you
What your child is doing today.
If you could see your child smile
With other children and say

"We go to earth and learn our lessons
Of love and life and fear.
My Mommy loved me oh so much
I got to come straight here.

I feel so lucky to have a Mom
Who had so much love for me
I learned my lesson very quickly
My Mommy set me free.

I miss my Mommy oh so much
But I visit her each day.
When she goes to sleep
On her pillow is where I lay.

I stroke her hair and kiss her cheek
And whisper in her ear
"Mommy don't be sad today
I'm your baby and I'm here."

So you see my dear sweet one
Your children are OK
Your babies are here in My home
And this is where they'll stay.

They'll wait for you with me
Until your lesson is through
And on the day that you come home
They'll be at the gates for you.

So now you see what makes a Mother
It's the feeling in your heart.
It's the love you had so much of
Right from the very start!!!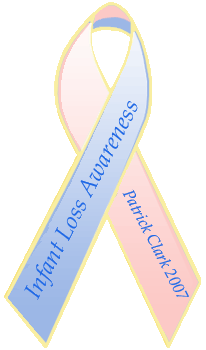 sweet dreams my precious baby! Rest on your cloud in Heaven!






To The Child In My Heart

O precious, tiny sweet little one
You will always be to me
So perfect, pure, and innocent
Just as you were meant to be
We dreamed of you and of your life
And all that it would be
We waited and longed for you to come
And join our family
We never had the chance to play
To laugh, to rock, to wiggle
We long to hold you, touch you now
And listen to your giggle
I'll always be your mother
He'll always be your dad
You'll always be our child
The child that we had
But now you're gone...but yet you're here
We sense you everywhere
You are our sorrow and our joy
There's love in every tear
Just know our love goes deep and strong
We'll forget you never
The child we had, but never had
And yet will have forever





You are the first thing I think about when I wake up and the last thing I think about before falling asleep

Smile though your heart is aching
Smile even though it's breaking
When there are clouds in the sky you'll get by
If you smile through your fear and sorrow
Smile and there'll be tomorrow
You'll see the sun come shining through
If you'll just smile






My Mommy is a Survivor

My mommy is a survivor, or so I heard it said.
But I can hear her crying at night when all the others are in bed.
I watch her lay awake at night and go to hold her hand.
She doesn't know I'm with her to help her understand.
But like the sands on the beach that never wash away...
I watch over my surviving mommy who thinks of me each and everyday.
She wears a smile for others...a smile of disguise.
But through Heaven's door, I do see tears flowing from her eyes.
My mommy tries to cope with death to keep my memory alive.
But anyone who knows her, knows it's her way to survive.
As I watch over my surviving mommy through Heaven's open door...
I try to tell her that the angels protect me forever more.
I know that doesn't help her, or ease the burden she bears.
So, if you have a chance, go visit her and show her that you care.
For no matter what she says or feels,
My mommy has a broken heart that time won't ever heal.





Please light a candle in memory of our precious son Patrick Jay Clark



Please visit some of Patrick's angel friends websites

www.vanessa-barnai.memory-of.com
www.laura-porter-1995-2005.memory-of.com
www.daekaris-light.memory-of.com
www.kristopher-verge.memory-of.com
www.olivia-young.memory-of.com
www.siobhan-bryantmillar.memory-of.com
www.kinsey-and-kylee-sullivan.memory-of.com
www.joshua-blakeway.memory-of.com
www.rememberryanthomas.com